---

Welcome to Trysorau
We are delighted to share with you 'Trysorau' our Friends of Portfield School charity shop at 2 Old Bridge, Haverfordwest.
We wish to inform you that Trysorau Charity Shop now has a landline phone number.
Should you wish to contact us at the shop, please ring 01437 760839
In December 2016 Friends of Portfield School opened the doors to their very own charity shop, Trysorau. The pupils have been very much involved in the whole process from choosing the name to assisting with the design of the shop. The shop provides pupils with work experience and opportunities to meet, socialise and develop their skills to be more able to access the job market. The pupils are gaining real life experiences, handling money, customer service, organisational skills, creative skills, team work and housekeeping.  The impact on this has increased their confidence and given them valuable transferable skills.
Not only are the pupils of Portfield  benefiting, we provide older people within the community and the parents/carers of our pupils the opportunity to volunteer in the shop, which has been a huge help and has enabled us to extend our opening hours.
We were fortunate to secure £4,208 from the Caring Communities Innovation Grant which has been used to cover the start-up costs, and due to the generosity of the community with donations, we are able to continue to keep the shop open and continue the fantastic work experience for our pupils, staff, parents, carers and older people in our community.
If you are interested in volunteering then please contact the school on 01437 762701.
Donations can be dropped off at Portfield School or the shop.
For more information on The Friends of Portfield School and any events please click here
Opening times:
We are 10am till 3pm Mon-Fri, term time only
Our phone number is 01437 760839
Take a look at some of our photos….
Welcome To Trysorau

!
Scroll down for news and updates….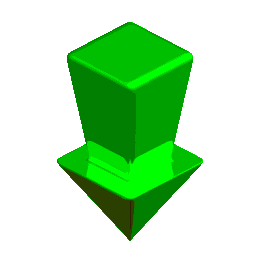 Best Dressed Window in Haverfordwest
We are very pleased to announce that our Charity Shop in Haverfordwest won the award for The Best Dressed Window in Haverfordwest for St. David's Day. The competition was organised by Cymraeg Byd Busnes / Welsh for Business. Y Porth Satellite class planed and dressed the window that won the award – well done Y Porth!!


Valentine's Day Windows Display
Pupils from Nolton Class, Y Porth Satellite Class and Porthgain Class have been busy decorating the shop for Valentines Day.
Please pop in and take a look, there lots of lovely items on sale at very reasonable prices.

Trysorau's 'Guess How Many Sweets' Winner

!
The winner of Guess the Sweets was Eleri Edwards from Y Porth Satellite Class.
Eleri correctly guessed that there was 157 sweets in the container.
Well done Eleri, we hope you enjoy your sweets.

Happy Birthday Trysorau

!
Our School Charity Shop Trysorau enjoyed its 3rd Birthday over the weekend. Thank you to The Friend's of Portfield School and everyone who supports the Charity Shop in Haverfordwest, it is only made possible by the continued support from everyone who volunteers and donates.
Trysorau is a wonderful asset to Portfield School, our older pupils enjoy working in the shop and develop a range of skills that will support them in future workplaces.
Thank you!….

Trysorau's 'Guess How Many Sweets!'
£1 per go – Winner takes all
To be Drawn on 14th December – our 3rd Birthday in Trysorau Charity Shop
Pop in on your way round town!!
 
This week in our Charity Shop pupils have been busy sorting, pricing and displaying Christmas gifts.
We also have Christmas jumpers for sale – but be quick as they are selling fast!!!!!!
Just some of the things that are on sale at our Charity Shop in Haverfordwest.
Some updates of our pupils busy at work!….
Our Children in Need Window Display
Please pop into Trysorau Charity Shop in Haverfordwest.
The window has been dressed by Nolton Class ready for Children in Need!
Our Halloween Window
The students have been busy decorating the window for Halloween.
They have done a fabulous job choosing and displaying the outfits.
∏∏∏∏∏∏∏∏∏∏∏∏∏∏∏∏∏∏∏∏∏∏
∏∏∏∏∏∏∏∏∏∏∏∏∏∏∏∏∏∏∏∏∏∏
Check out our fashion lines:
Keep checking this page for updates….